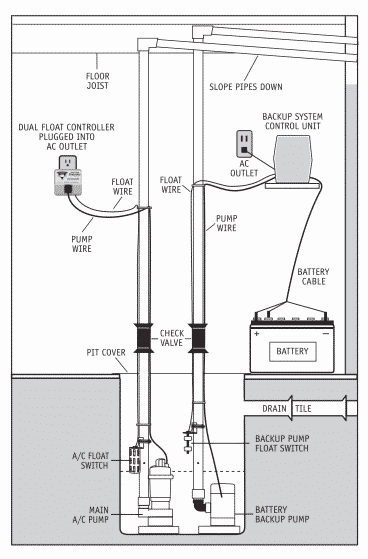 Five Sump Pump Maintenance Tips.
Five inches of rain on your roof can equal 8,715 gallons of water according to USGS. When a sump stops pumping that means a typical 900-square foot basement with water one foot deep equals about 6,500 gallons.
How long to dry out a flooded basement? One to two weeks. Avoid a flood. Learn how to maintain a sump pump before the next rain storm. Or, we're happy to maintain your sump or sewage pump each year. Just ask.
As you can imagine, sump pumps work until the day they die. Unfortunately you can't predict if the pump is nearing the end of its life. That is unless you have a special electrical test instrument that measures how well your pump motor is performing (not all pumps allow this test).
Better yet, PDM Plumbers offer a FREE sump pump motor health test while on a service call.
How to Maintain a Sump Pump.
Visual sump pump check. Especially true during persistent rainfall if your basement is remodeled.
Remove all debris from the sump pit bottom and pump inlet screen. Build up of debris is one of the major causes of sump pump failure. It is important to check your inlet suction screen and discharge line and make sure that there is no blockage every few months or after a hard rain. Remove the sump pump and clean both the pump and pit at least once every year.
Float switch – is it unobstructed, moves freely?
Fill pit with water. Add five gallons of water, check float switch operation and pump discharges water in pit at a good speed. While the pump is running, make sure a stream of water is escaping from the air bleed hole. If not, clear the small hole of any deposits or debris. Go outside and make sure the discharge water runs away from your home.
Battery backup pump. Check battery water level a few times a year. Batteries can last 2 to 5 years. Change as directed by the manufacturer for added insurance.
PDM stands against cutting corners when it comes to water damage. If you have a question call the PDM Clean Team for knowledgeable sump pump maintenance service.
We've offered honest answers since 1885. Contact PDM for sump pump maintenance in Joliet, New Lenox, Plainfield, Bolingbrook, Lockport, Homer Glen and SW Chicago Suburbs
Call a Trusted Plumber to Maintain Your Sump or Sewage Pump at 815-726-6264.
School Energy Saving Tips » « Clothes Dryer Vent Cleaning Lowers Drying Costs, Extends Dryer Life, Even Prevents A Fire.