What makes your home so important, so comfortable? It's what's inside that matters. And if you are going to trust someone to come into your home for bathroom or kitchen remodel – you want to be sure they are of a quality caliber.
The oldest local bathroom and kitchen remodeling contractor has that caring spirit. Since 1885, the PDM Comfort Team has been trusted for sound advice and dependable craftsmanship. We're fully certified for your safety. Call to share your dreams: (815) 726-6264
"Last week, Mr. Wilson replaced my kitchen and bath faucets and as always was helpful, professional and efficient." - Anne M.
We can provide you with remodeling that reflects your personal style and delivers the comfort you need. Your PDM Team genuinely cares about your safety, quality craftsmanship and getting the job done on-time. We offer 100% satisfaction guarantee on our workmanship, competitive prices and top quality.
With no ill will toward our competitors, our advice is to trust your judgment and consider all of the ways your remodel could go wrong:
Your bathroom or kitchen remodeling contractor can't deliver on their promises. You don't get the quality you were expecting.
You choose a nice contractor, but he overextends himself and your job stretches out too long.
The crew is rude, or unhelpful. You do not feel good having them in your home.
The remodeling contractor is fine and well-meaning—but disorganized. Things don't happen on schedule. Measurements are wrong. Supplies don't arrive on time. The worksite is a mess.
You simply aren't pleased with the job.
The fact is, some bathroom remodelers are top-of-the-line and some aren't.
As a 136-year-old company, PDM has a proven track record of giving cheerful respect and getting the job done the right way. Above all, PDM has the background and experience to help improve your everyday life with ADA accessible universal bathroom remodel. And we offer low cost remodeling financing.
Design
We schedule time to meet and discuss design and costs to bring your vision to life, from start to finish. While our team works with plumbing and HVAC we can be a one stop shop for other trades including flooring, painting, carpentry and electrical.
Plan
You'll receive a project estimate and building timeline for your total cost. Our commitment is to focus on quality workmanship and energy efficiency.
Build
Our in-house plumbers and HVAC techs excel in detailed custom projects with their expert craftsmanship. Professional project management, cleanliness, and regular communication are trademarks of our work.
Call for Free Advice
For more information on the bathroom remodeling services we offer or to schedule an appointment with us, please call (815) 726-6264 today!
The average remodel cost is a few thousand to $10,000 to over $20,000 for higher end designs. How long does it take to remodel? Hard to say without a plan, but from a few days to a month or longer.
From adding new plumbing fixtures to a new steam room, new bathtub or replacing a bathtub with a walk-in shower, the PDM Clean Team can help.  Add a shower seat, a handheld shower, body spray shower, smart toilet seat, smart shower valve, or equally important, functional, safe grab bars and anti-scald valves all add comfort and safety.
Call PDM Plumbing, Heating & Cooling for practical solutions that fit your needs and budget: (815) 726-6264 for free bathroom remodel advice.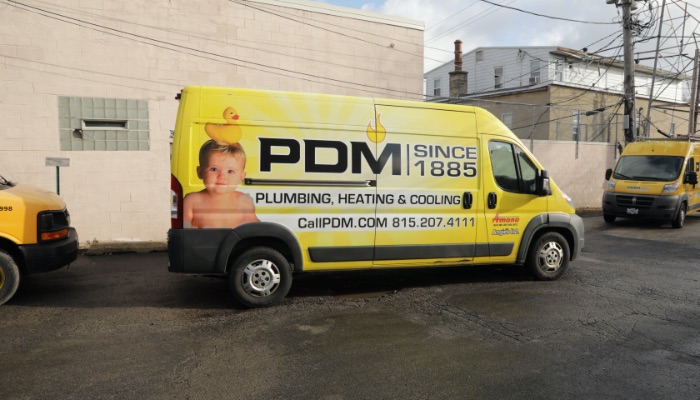 Our core values of fairness and honesty are the building blocks of what we stand for. PDM sets the bar higher. We're dedicated to creating indoor comfort where people live happier, healthier lives. We work with our clients by listening, questioning, building—until, together, we exceed expectations. This is how we define service excellence.
Just a few of the things that make our team great are:
Fantastic, friendly attitudes.
Extensive training and experience.
Comprehensive background checks and regular substance testing.
Ingenuity and preparedness for the unexpected.
Fully insured, licensed and neatly uniformed.
Clean, neat-freak service.
Get your free estimate today: (815) 726-6264
How much does it cost to remodel a bathroom near Joliet IL?
Homeowners looking to remodel a bathroom in the Joliet, IL area can expect to pay around $1,000 to $10,000 for minor/partial remodels, or $20,000 or more for higher end designs and extensive remodels. The costs can seem high for the small amount of space being worked on. However, there are many different factors that go into this, including:
Plumbing

Moisture Content

Electrical Wiring

Decorating Schemes
More than half of the cost of the remodel will go to labor. Tearing out old tile and plumbing is labor-intensive, but the real cost of labor lies in plumbing and bathroom design. Relocating a shower, toilet or sink requires extensive plumbing work. 
The rest of the budget will be spent on materials. The cost of bathroom flooring and shower tile can greatly affect the price.
For a free price estimate on your bathroom remodel, call PDM Plumbing, Heating & Cooling. We bring over 135 years of experience in bathroom remodel contracting. For practical solutions that fit your needs and budget, call PDM today at (815) 726-6264.
How long does it take to remodel a bathroom near Joliet IL?
Trying to determine how long a bathroom remodel might take can be difficult. Small jobs might take a few days while a complete overhaul might take a month or two. Some factors that might impact the time include:
Type of work done

- Is it a cosmetic remodel or a stripped-down, total rebuild?

Number of subcontractors

- The more subcontractors involved, the longer it could take to figure out everyone's schedules.

Availability of materials

- For special-order goods, the remodel could last longer. 
While these factors will have an impact on the time a remodel will take, PDM Plumbing, Heating & Cooling has the expertise and experience to provide you with a very accurate estimate.
Find out how long your remodel will take with a free estimate. Call (815) 726-6264.
Why should I hire a plumbing contractor for my bathroom remodel project near Joliet IL?
While it's tempting to DIY when considering a bathroom remodel, it is worth it to call in the professionals. A few reasons why homeowners in Joliet, IL choose to hire a plumbing contractor to do their bathroom remodels include:
Setting up the drainage system is complex.

Hiring a professional plumber will help avoid sluggish drainage problems or leaks when the remodel is complete.

Assessing the condition of the pipes can be challenging.

A professional plumber can determine what existing pipes can stay and which need to go. 

It's hard to foresee what problems might arise.

The homeowner would be responsible for any mishaps and future problems unless they used a professional plumber. A plumbing company will be bonded and insured for any mishaps that could occur, and the project would be covered under warranty.
For more questions about your bathroom remodel, call PDM Plumbing, Heating & Cooling today at (815) 726-6264. We offer free estimates and a 100% satisfaction guarantee on all remodel work, and have been proudly serving the Joliet area for 135 years.