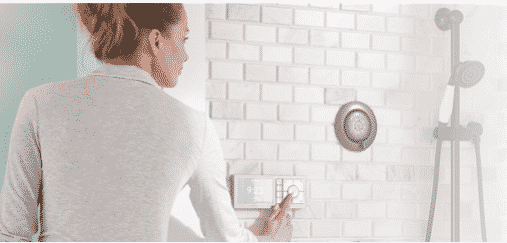 Next-Generation Digital Smart Shower Technology.
A smart shower takes a digital shower and adds smart home connectivity. Users can set their preferred water temperature, outlet, flow rate, shower duration, and much more through the smart shower's control display, smartphone app, or through voice command. Moen Smart Water App starts with Alexa, Siri or Google Assistant.
Now with three ways to control your smart shower: voice, phone, and controller. Innovative cloud-based showering system provides you with unmatched personalization for the ultimate in-home spa experience.
You can create smart shower profiles for temperatures, length and more for your morning or bedtime shower. Profiles for your husband, kids, even the dog? And don't forget the right settings for after work or a workout!
Moen Smart Shower. Your Perfect Smart Shower is a Few Taps Away. With just a few taps on your smartphone, start your day with the perfect wake-up shower and finish your day with the perfect wind-down settings. The U can control two or four shower valves!
Smart shower is perfect for brighter mornings or after work.
Smart shower is for personalized shower.
Smart shower is for control.
Smart shower is for saving time.
A Smart Shower makes your everyday easier.  Contact the PDM Clean Team for free shower faucet advice. Your polite, licensed PDM plumber serves Joliet SW Chicago Suburbs since 1885. Call 815-726-6264 today.

Air Conditioning FAQ » « Best Air Purification Ideas