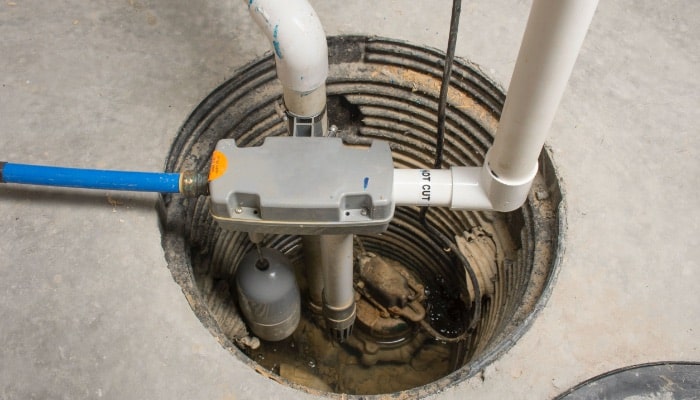 Sump Pump Service in Joliet, Plainfield, New Lenox, IL area. 
For 138 years PDM has helped neighbors avoid basement flooding with reliable sump pump service in Joliet, Plainfield and New Lenox. Call the oldest sump pump plumber for help today.
Sump pumps job is to direct rainwater away from the foundation of your house and prevent costly flooding. A sump also helps prevent the spread of mold. You can have either a pump located in a pit or a floor-mounted pump.
A working sump pump is a smart investment.
Remember, Sump Pumps Can Run Days After A Heavy Rain.
After heavy rains, even snow, sump pumps can run up to to three days later due to high groundwater. Do not pull the plug too quickly but if your pump is running long, have it checked by a professional like PDM.
Sump Pumps Don't Stop Floods Completely.
Sometimes a sump pump can't keep up with heavy rainfalls. If this is common for your home, please consider a second back up pump or a battery backup sump pump in case power goes out.
Your sump pump will require maintenance at least once a year. Inspect the pump and pit after heavy rainfall to remove debris. Learn how to maintain a sump pump.
What Are Joliet Sump Pump Replacement Costs?  
Industrial grade sump pump replacement cost average from $800 and up. Your old pump and some discharge piping is removed, pit cleaned and new pump installed safely to code. System is tested and guaranteed.
Tough, Powerful Sump Pump Service You Can Count On.
Our PHCC Pro Series pumps incorporate the latest technology with built-in monitoring to provide visual and audible warnings when problems arise with the unit or with power sources. They are manufactured to stand up to running continuously for 24 hours a day every day throughout the year.
The confidence PDM has in the Pro Series products allows PDM to offer customers a one-year warranty on pumps used in continuous-duty applications, such as fountains and ponds. When less used, the pump life is extended, and the warranty offered can extend to five years depending upon the application for which the pump is used.
Technology Sets a PHCC Pro Series Pump Apart from Competitors.
An important feature is the remote notification capabilities of each unit. A user can connect a pump to home security systems, automatic dialers or other devices to send alerts to remote sites. This alerts users when the pump requires maintenance or when there is a problem requiring homeowners to call in a plumber for service. Order quick pump service in SW Chicago suburbs.
Keep Your Sump Pump Functioning During Storms.
Hire our team of experienced plumbers from PDM to address your plumbing issues at home. We have the skills, tools, and knowledge to solve these problems.

PDM Plumbing, Heating, Cooling Since 1885 continues serving the needs of residential and commercial customers throughout Joliet, Illinois, and the suburbs southwest of Chicago. Award-winning team provides trusted and dependable pump service. PDM is dedicated to doing things the tried-and-true way. It's gotten us this far. We see no reason to change it now. That's the PDM difference. Sump pumps in Joliet, New Lenox, Plainfield, Bolingbrook, Homer Glen, Channahon and Frankfort neighborhoods since 1885.

Please contact PDM Plumbing, Heating, Cooling Since 1885 at (815) 726-6264 for quick, trusted sump pump service in the Joliet area.

Coronavirus Pandemic Message » « Whole House Humidifier Maintenance Works