Your day is happier when less complicated. Your business will be more profitable! Your heart will sing like a kettle! Angles will dance!  Try PDM Plumbing, Heating, Cooling Since 1885 and prepare to be amazed.
Whether a commercial manager, owner or a general contractors, we have your back. As business owners ourselves, we understand how important running a business is. We will not unnecessarily disrupt your business or make a mess. Will work safely, quickly and professionally so that you can focus on what's important to you.
Call a kind of a neat freak craftsman to help with any guaranteed commercial plumbing or HVAC remodel, repair, replacement and maintenance.
Great service. The work was done quickly and improved the performance of the furnace as a whole. - Pactiv Evergreen
Proud to Provide Service to:
Schools, Education, Religious Centers

Health Clinics & Hospitals

Assisted Living & Nursing Homes

Sports Arenas & Venues

Malls & Shopping Centers

Grocery Stores

Convenience Stores & Gas Stations

Motels, Hotels, Restaurants, Bars

Business Offices

Industry, Warehousing

Public Buildings – City, County, State
Water Backflow Preventers

Piping

Sump Pumps, Sewage Ejector Pumps, Process Pumps, Condensate Pumps, Water Pressure Pumps & Variable Speed Pumps

Drainage & Sewer Systems

Water Heaters

Water Filters

Green Fixtures & Build Outs

ADA Remodeling
Air Conditioning Repair, Replacement & Maintenance

Heating Repair, Replacement & Maintenance

Boiler Service

Air Filtration

Humidifiers & Dehumidifiers

WiFi Thermostats

Ventilation Systems

Air Duct Installation, Repair, Maintenance & Cleaning
Let us help you get it done the way you want it!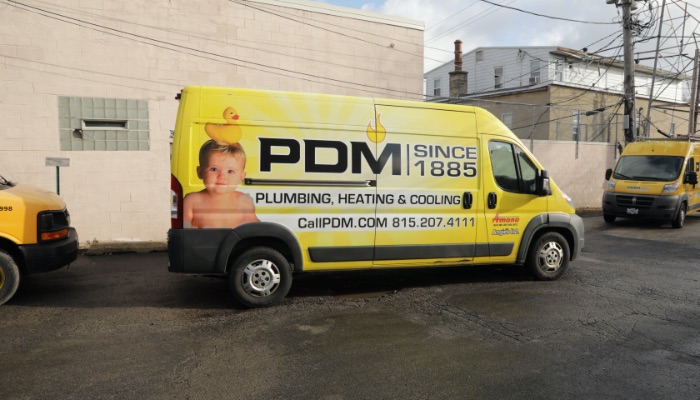 What commercial plumbing services does PDM provide?
PDM Plumbing, Heating & Cooling proudly offers the following commercial plumbing services:
Water Heaters
Water Filters
ADA Remodeling
Water Backflow Preventers
Piping & Repairs
Pumps
To learn more or to schedule a commercial plumbing appointment, contact PDM today!
What commercial HVAC services does PDM provide?
PDM Plumbing, Heating & Cooling offers the following HVAC services:
Repair, Maintenance & Replacement on Commercial HVAC Units
Boiler Service
Air Filtration
Humidifiers & Dehumidifiers
WiFi Thermostats
Ventilation Systems
Installation, Repair & Maintenance on Air Ducts
To learn more or to schedule a commercial HVAC service, contact PDM today!
What are the benefits of a commercial plumbing inspection?
As property owners ourselves, we understand how important a successful plumbing operation is to your company. That is why a commercial plumbing inspection is essential for your business. A plumbing inspection will:
Extend equipment life by years.
Lower utility bills.
Improve health.
Keep warranties active.
Give you peace of mind.
Make sure to order a plumbing check-up:
As a planned annual check-up to improve performance, extend equipment life and prevent emergency plumbing disasters.
Before signing a lease, to make sure that the property's plumbing is in order before taking on the responsibility of maintenance.
Before buying a property.
After a major disaster, like flooding.
When compared to what can go wrong, it's clear that a plumbing maintenance plan from a trusted professional is well worth the investment. Shine a light on dirty threats. A knowledgeable, kind-of-a-neat-freak PDM plumber will clean, adjust, calibrate and reset equipment finer points to factory specs. PDM master plumbers have your back. Contact us today to get on our schedule!
At PDM Plumbing Heating & Cooling, we make sure we always complete every job as quickly and efficiently as possible. We make sure not to unnecessarily disrupt your business with a mess or excessive noise. We know how stressful the alternative can be, and we never want to make you feel that way.
If you'd like to know more about the commercial HVAC and plumbing services we offer or schedule an appointment, give us a call at (815) 726-6264 and we'll be glad to help!