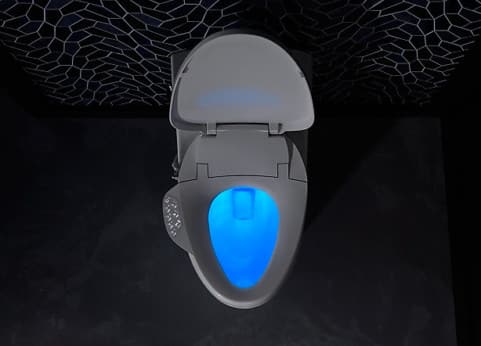 A Smart Toilet Bidet Seat Is Sweet
Fresh, Pure Water Is Much Nicer Than Dry, Rough Toilet Paper.
Few household comforts have changed less in the last 135 years than a toilet. Certainly the flushing power and water saving design has advanced but the tank, bowl, seat and toilet paper are essentially the same. Once in a great while, something comes along that makes you wonder how you ever lived without it, like a smart toilet cleansing seat bidet.
A sponge bath is different then washing at the sink, in a bath, or under the shower. A sponge bath is like wiping with toilet paper compared to a bidet.
So clean, so comforting, you'll wonder how you lived without one. You'll love it, really. We have found no one has been unhappy with their new smart toilet seat investment.
Improve Your Health and Hygiene With A Bidet.
The medical world supports keeping your private parts clean to ward off health issues and illnesses related to the genital and urinary areas. With better personal hygiene, you may find yourself less likely to suffer from:
Constipation
Hemorrhoids
Cancer of the gastrointestinal tract
Prostatitis
Urinary tract infections (UTIs)
Gynecological issues
Toilet paper and quick wiping or wiping too long can cause irritation and bacteria to spread. And for those who can't clean themselves well due to age or physical situation a bidet can make a huge difference in their personal hygiene. 
Children, when they are potty training and as they continue to grow
Anyone with mobility issues
Pregnant women

 

Anyone using Depends underwear for leaky bladder
Overweight and cannot gain ready access to personal areas
Bidet Cleansing Is More Comfortable Than Toilet Paper.
The benefits of using a bidet regularly don't end here, however.
There's an environmental impact. A bidet uses about one-eighth of a gallon of water for cleansing and flushing. Using one roll of toilet paper can use up to 40 gallons of water. Water, toilet paper, sewage sewage system all are part of environmental issues. 
Smart Toilet Cleansing Seats: Modern Day Bidet.
Smart toilet cleansing seats feature water cleansing as a refreshing change to toilet tissue alone. They give you complete control over the entire experience with intuitive controls. And they will leave you feeling confident, assured and cleaner than clean.
Sleek and smart, a cleansing seat will elevate your daily routine. It's an instant upgrade to any toilet with customizable amenities you might experience at a spa or in a luxury hotel, including warm-water cleansing, heated seat, nightlight and much more.
Budget Toilet Bidet Seat.
You have choices for a less costly option that is a manual bidet seat with no electric for a few hundred dollars to thousands of dollars for the higher end bidet complete with warm air dryer, heated seat, heated water, lights and more. You can choose the ideal toilet accessory for your family budget.
Smart Toilet Cleansing Seats are designed to fit most toilets and complement decors. You can invest in a seat only or a whole new toilet and intelligent seat. Features can include:
Nightlight – A built-in light sensor automatically turns on a dim nightlight. A smart road map to the toilet without turning on eye-shocking overhead lights.
Heated seat – Ergonomically designed seats are heated for sweet comfort.
Warm-air dryer – The warm-air dryer is adjustable gives you personal comfort and assurance.
Hands-free lid, auto-flush – The motion-activated lid on an intelligent toilet automatically raises for you. Once you're done, the toilet will automatically flush itself. The hands-free operation is cleaner with fewer germs to pick up or leave behind.
Deodorizing seat – Upon sitting down, a fan starts. Air is pulled from the toilet bowl through a carbon filter to remove odors and help keep your bathroom fresh.
Touch-screen remote control – Looking for a gentle cleansing or a cleaner alternative to toilet tissue? KOHLER smart toilet cleansing seats let you control your experience with convenient presets and intuitive controls. The intuitive touch-screen remote can be mounted to the wall, and it works like a smartphone. Program and control your personal settings with a simple touch.
See Kohler intelligent toilet video.
Cleaner Than Clean… Your Bathroom Upgrade Starts With PDM
If you are ready for the perfect holiday gift a smart toilet bidet is an unexpected surprised. From a simple manual water spray to more options requiring electric GFCI outlet and water connections. With one call PDM can help install a new smart seat or complete new toilet bidet.

All PDM plumbers wear shoe covers, gloves, and a mask if you or they prefer. We practice social distancing and will not shake hands. It's all part of PDM's 6 Step Healthy Service Call to protect you and us.

Contact PDM Plumbing, Heating, Cooling Since 1885 for smart toilet seat advice. Serving Joliet SW Chicago Suburbs. Call (815) 726-6264.

Benefits Of A Whole Home Humidifier » « Best Air Cleaner Near Me