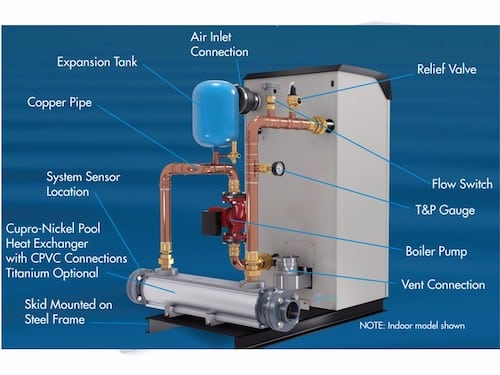 Expert Pool Heater Service 2023
Offering pool heater repair, maintenance, and tune–up service in the Joliet SW Chicago Suburbs area for many decades. Whether you have a gas pool heater or an electric heater, its similar to your home's HVAC system. Annual maintenance is needed to keep it running optimally and according to manufacturer specifications.
It's vital to make sure your pool heater is safe to use. When dealing with natural gas or electrical near water, safety is key. Any signs of trouble with your pool heater should be inspected by a qualified professional.
Pool Heater Or Pool Pump FAQ
PDM technicians can help with commercial or home spa and swimming pool heater or pool pump problems including:
Q: Swimming pool heater will not ignite. A: Pilot or ignitor is faulty. Weak gas pressure. Poor venting. Dirty pool filter. A blockage in the burners or orifices, bad gas valve.
Q: Why would my Pool heater be leaking? A: The heat exchanger may be leaking because of chemicals, winter freeze damage, or  failed joints.
Q: Why doesn't my Pool heater reach desired temperature? A: Thermostat setting or malfunction. Heater too small. Inadequate gas supply, gas piping too small.
Q: Pool heater making whistling noise or clicking noise. A: Could be a faulty gas valve. Gas pressure problem or a result of partially clogged burner orifices. Clean pool filter first.
Q: Why does Pool pump making a grinding noice? A: Could be a lack of water moving thru the pump. Damaged motor bearings are a common cause of grinding noises from a pool pump.
PDM can diagnose, offer a price upfront and make necessary pool heater repair near me. We service most brands of pool heaters. Serving greater Joliet, New Lenox, Plainfield, Bolingbrook, Homer Glen and SW Chicago suburbs neighbors since 1885.
Is It Worth Fixing A Pool Pump?
Pool heaters have an average life expectancy of 6 to 12 years; the last thing you want to do is invest in pump repairs near the end of its life. Plus none of your replacement parts will carry a warranty whereas a complete new motor will.
How do you know if your pool pump motor is bad? One sign is if you hear a loud grinding sound, it's usually a sign that the bearings are getting worn down and time to replace.
Contact PDM for expert spa and swimming pool pump motor troubleshooting for over 100 years.
Swimming Pool Heater Repair Or Replacement In Joliet SW Chicago Suburbs.
Ready for an energy efficient pool heater upgrade? Get the peace-of-mind knowing that you will have trusted professionals for residential or commercial swimming pool and spa heater repair, replacement or installation. See Haywood pool heaters.
The experts at PDM can install or replace small or large spa or swimming pool heating systems. Whether for home or commercial pools we have the experience to help install an energy efficient pool heater. PDM swimming pool heaters are unmatched for heating efficiency, operating economy, low-cost installation and all-around dependability. Give PDM a call for free consultation.
Call Your Local Swimming Pool NEAT Freaks For Quality Repairs:
Neighborly—We're always kind and pleasant.
Environmentally friendly and use sustainable materials.
Always respectful and clean up our messes.
Trusted all across the SW Chicago area for expert pool heating services.
Scheduling annual pool heater maintenance near Joliet, IL is, bar none, the best way in which to keep your pool heater in prime working condition. Call PDM at (815) 726-6264 for quick, guaranteed swimming pool heater repair near me.

Plumbing Services in Plainfield, Illinois From The Oldest Plumber » « HVAC Services in New Lenox, Illinois From The Oldest Expert