After a long day you'll hum a sweet song across soft, warm skin. Your toes and hair feel softer, your skin is younger and you'll have less housework with PDM water softener service.
Hard water has a high concentration of minerals such as chalk, limestone and gypsum. While hard water isn't toxic to drink, it can prevent your clothes from being cleaned thoroughly and can leave residue on your dishes, laundry, fixtures and in your pipes. This can cause costly damage to your plumbing.
Hard water can reduce moisture in your skin and hair and leave behind a film. Water softeners help improve how your body feels and prevent unnecessary expenses by filtering out the minerals in your water.
You can relax about the quality of your water. Call PDM Plumbing Since 1885 to fulfill your soft water expectations.
"I found PDM Plumbing on the Better Business Bureau App. He has an A+ rating. He was prompt, professional and affordable!" - Toni F.
Hard water service since the early 1900s.
For nearly 100 years, our family-owned business has excelled in providing quality hard water solutions with water softener service, repair and installation.
If your softener needs to be maintained or repaired, give us a call. PDM services all major brands including Culligan water softener, Fleck, GE, Kenmore, Kinetico and more.
PDM will inspect your water softener top-to-bottom to learn what needs fixing, what needs maintaining and what can wait. We know Soft Water Systems! We'll offer options and price before work begins.
For fast softener repair or maintenance help call PDM plumbers at (815) 726-6264.
Hard water gives you essential dietary minerals, such as calcium and magnesium. We usually hook up the soft water piping for hot water only to protect appliances and avoid hard water hair and hard water skin.
Hard water can reduce moisture in your skin and hair and leave behind a film. This can cause you to feel less clean to the touch, affect dandruff and irritate dry skin problems such as eczema. By piping only the hot water to the softener, your natural hard water is still available to drink and water plants with cold water.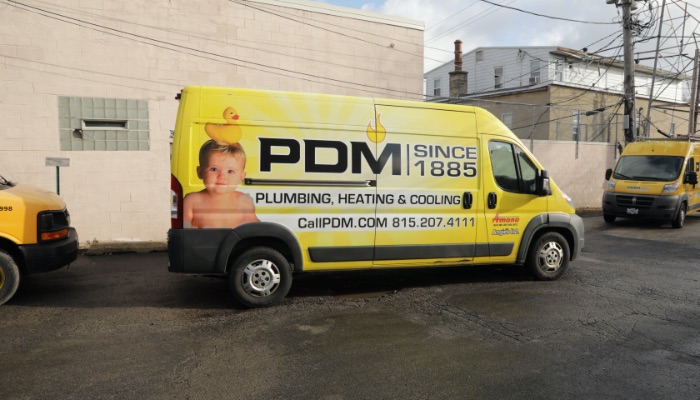 PDM doesn't just provide a service. We find solutions to the plumbing problems you are facing in your home.
We care, and we're NEAT:
Neighborly—We're always kind and pleasant.
Environmentally friendly and use sustainable materials.
Always respectful and clean up our messes.
Trusted all across the SW Chicago area for expert home services.