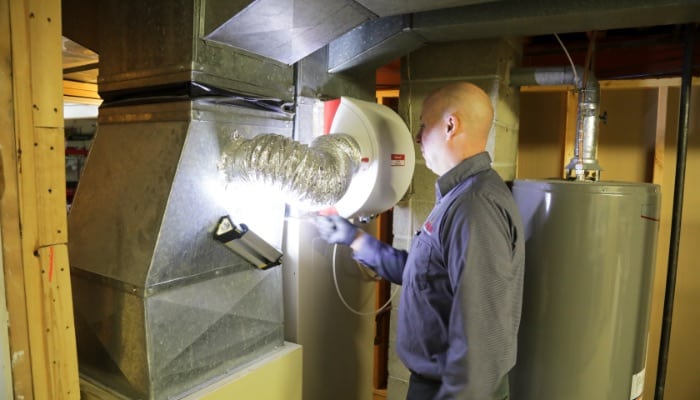 Don't Believe It.   
The purpose of a standard air filter is to keep the entire heating and cooling system humming along. So are cheap furnace air filters better?
A contractor knows cheap filters trap fewer particles floating in your air. A cheap furnace filter has a larger weaving for larger particles that affect your furnace operation. If you don't mind breathing smaller particles floating in your home then inspect the filter more often and replace when needed.
Most cheap air filters are 1 inch thick. Consumer Report says the thicker the air filter, the better it filters.
What Is Household Dust?
Virus, bacteria, mold spores, human skin particles, pet dander, dust mites, fabric fibers, insect, cock roach parts, food particles and more…are found in dust particles.
Are Cheap Furnace Air Filters Better? Media Air Cleaner Help You Breathe Easier.
Media air filters  can be 5 inches thick and last for 6 – 12 months until needing to be replace. You get high-MERV filtration with zero negative consequences for static pressure and airflow. But you may need some ductwork modifications for a media air filter.
A media filter is better than a high-MERV 1" filter. A 1" filter finds it difficult to filter air effectively while also ensuring optimal airflow and equipment performance. Media air filter can capture viruses, bacteria, and mold that make you feel sick. Media Air Cleaners maintains high airflow in your HVAC system so it can run at 100% efficiency.
Odor Control is a priority? We recommend a carbon coated media filter. Activated carbon contains microfissures that increase the surface area and encourage odor absorption. When air passes over the coated fibers, the filter removes the odors from your indoor air.
Installing A New Air Filter.
Printed on the filter is a arrow of which side of the filter should face the furnace. Slide the filter into place. Record the date so that you'll know when it's time to change the furnace filter again.

Read Five Signs of a Dirty Furnace Air Filter.

Are cheap furnace air filters better? Call the oldest HVAC contractor to learn more. Serving Joliet, New Lenox, Plainfield, Homer Glen, Bolingbrook area for air filtering help. Call 815-726-6264.

What To Know About Your Main Sewer Line » « Why Get An AC Tune-Up