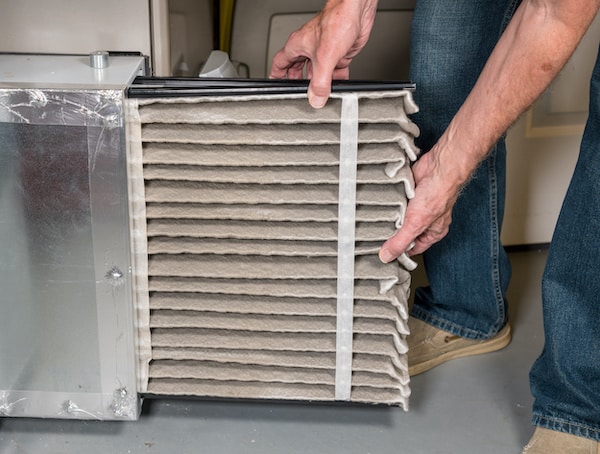 Residential Furnace Air Filter
Cheap fiberglass air filter is made to catch larger particles like hair and some dust before reaching sensitive furnace components. They do little to remove allergies, viruses, odors and more. Their primary job is to protect the furnace and AC, not your lungs.
Do Filters Work Better When Dirty?
Whether a cheap fiberglass filter or a better quality pleated air filter, please change your air filters when dirty. A clogged furnace air filter will decrease airflow and comfort, even shut down your HVAC system and damage expensive parts.
If you like a healthier air filter we recommend a Media Air Filter. The media filter offers a 5" thick filter that captures airborne microscopic particles like dust and smoke, plus larger contaminants like mold spores and pet dander.
Pleated media filter is up to 40X more efficient than 1" filters. Unlike most 1″ filters, a media filter is surrounded by a solid cabinet that prevents unwanted dirty air infiltration. A lot of 1″ filters aren't as effective because they allow air to go around the sides – defeating the purpose of high MERV values. A media air filter maintains high airflow in your HVAC system so it functions at full efficiency. Media filters contain over 22SF of media and lasts 6 to12 months. You may need professional help to add the larger filter cabinet to the duct work.
Five Signs Of A Dirty Furnace And AC Air Filter.
It's easy to forget about replacing a dirty furnace filter. Imagine breathing through a dirty dust mask. Sooner or later it gets difficult to breathe and you overheat. That's what your furnace-ac experiences. Here are some costly signs your air filter needs changing.
Utility bills higher? Furnace or ac runs too long or even all the time when the weather demands it.
Poor air flow? You feel less air blowing from the register. Dirty furnace air filter can reduce airflow by 60% reducing your comfort and stressing your HVAC equipment.
Ice forming on AC piping Turn off ac, check filter, run fan until ice melts.
Furnace or air conditioning stops for no reason? The lack of fresh air can cause the furnace heat exchanger to become too warm and deactivate.
HVAC unit turning on and off too frequently? The shorter this cycle, the harder your furnace and air conditioner system needs to work. Learn about AC repair FAQ. Or furnace repair FAQ.
Cleaner air filter allows your HVAC system to operate at peak performance, lower utility bills, and prolong the life of your furnace.
Air Filter or Air Purifier?
Cheap air filters work to protect your HVAC equipment. If you want to protect your lungs and blood, a good air filter and a whole home air purifier is a healthier option. PDM's iWave air purifier actively purifies your whole house or business air by killing mold, bacteria and viruses (including Covid), as well as reducing allergens, odors, smoke and other particulates in the air with the world's first self-cleaning, no maintenance air purification system. Read more of the best air purifier. Low monthly payments are available. Contact PDM for a free estimate.
Why Choose The Areas Oldest Plumbing And HVAC Contractor?
PDM's skilled plumbing, piping, HVAC team promises the following with your service call:
Guaranteed Pricing: You will never be surprised by an unpleasant bill.
100% Satisfaction Guarantee: Going beyond to make you happy.
Environmentally Friendly: We recycle and use sustainable materials.
Respect: We're homeowners too, so we will always clean our messes and treat your property with respect.
Ask The PDM Clean Team For Free Indoor Air Quality Advice. Call 815-726-6264 or 630-378-7788.
Remember, dirt and neglect is the #1 cause of HVAC breakdowns and higher utility bills. Fight back with clean air filters and a peak performance HVAC tune-up.
If you notice a dirty furnace or dirty air duct registers, call PDM for a top-to-bottom HVAC check-up. PDM technicians are happy to start your annual furnace and air conditioning safety inspection and energy boosting tune up.
PDM serves SW Chicago Suburbs and the Greater Joliet, New Lenox, Plainfield, Bolingbrook, Homer Glen neighborhood. Please give the folks at PDM Plumbing, Heating, Cooling Since 1885 a try. Call 815-726-6264 or 630-378-7788.