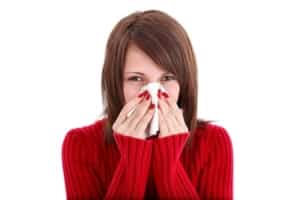 Stir Up Indoor Air Irritants
One of the possible sources of dirty indoor air could be a solution you're using to keep your home clean. Household cleansing products are on the list of usual suspects of those substances that produce indoor irritants.
According to the EPA, common household cleaners release Volatile Organic Compounds (VOCs), when used and stored, and they're often placed under the kitchen sink. VOCs are emitted as gases and include a variety of chemicals, some of which may have short- and long-term adverse health effects.
The products that emit VOCs number in the thousands and include: cleaning supplies, pesticides, building materials and furnishings, office equipment such as copiers and printers, paints and lacquers, paint strippers, graphics and craft materials including glues and adhesives, permanent markers and photographic solutions.
Concentrations of VOCs can be up to ten times higher indoors than outdoors. And not only that, most Americans spend up to 90 percent of their time indoors.
To protect yourself and your family, take care in how you use cleaning products. Store household products that contain chemicals according to manufacturers' instructions and keep all products away from children. You may wish to consider purchasing cleaners without VOCs.
Add biological materials to indoor air such as pet dander, cockroach and other insect pest particles, pollen, bacteria, and mold and indoor air irritants add up. All of these materials are small particles, can become airborne, and thus, are easily inhaled.
Typically, indoor air quality problems just create discomfort, and most people will feel better when the source of the pollution is removed. However, it's wise to remember that some pollutants can have long-term effects and continued exposure can lead to respiratory ailments or other serious issues.
If you'd like to learn more about the quality of your indoor air, let PDM know.
Trusted Advice From PDM Since 1885
We didn't gain 138 years of experience overnight. But you can. Get honest advice from a partner who raises the bar in quality standards.
PDM Plumbing, Heating, Cooling Since 1885 is one of the oldest family owned & operated home service companies serving the Joliet metropolitan area. We provide SW Chicago suburbs neighbors the best in air fquality, cooling, heating, plumbing, drain service and bath remodel. Contact PDM now for air purifying advice. Call 815-726-6264.