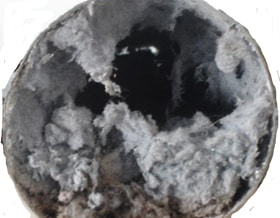 Clothes Dryer Vent Cleaning in Joliet, New Lenox, Plainfield, IL
The refrigerator was running continuously so I pulled out the brush and cleaned the coils. It was loaded with lint, dust and more. Same was true about my clothes dryer vent cleaning.
You'd think the clothes dryer screen would catch all the lint, but that is not so. Remove the lint screen and clean the dryer itself with a long handle brush and vacuum. You'll be surprised how much lint got through. Then there is the vent hose from the dryer to wall and the wall to outdoors.
The Consumer Product Safety Commission released a safety report called Overheated Clothes Dryers Can Cause Fires. It states in the report to "check the dryer vent and exhaust vent periodically to ensure that exhaust air is escaping."
7 signs of a dirty or clogged dryer vent.
Clothes dryer takes longer to dry, even a 2nd cycle.
Clothes come out of the dryer very hot.
Find very little lint on the dryer lint screen.
Dryer stops during a cycle.
Your clothes have a moldy smell.
Dryer is hot to the touch while running.
You find lint on your clothing.
"Improper dryer vents are a much bigger and more common safety problem" according to Consumer Reports.
Clogged vents can increase drying costs, shorten the life of your dryer and even cause a fire.
Plastic or foil exhaust ducts are dangerous. They can sag allowing lint to build up. Upgrade to a metal exhaust duct to prevent sagging and if a fire begins metal helps to contain the fire.
When lint accumulates in an exhaust duct, it reduces the dryer's ability to expel heated water vapor causing heat energy to build up within the machine.
As the dryer overheats, mechanical failures can trigger sparks, causing lint trapped in the dryer vent to burst into flames.
Fires generally originate within the dryer but spread by escaping through the ventilation duct, incinerating trapped lint, and following its path into the building wall.
How to clean clothes dryer vent.
First unplug dryer and turn off gas supply if a gas clothes dryer.
Move dryer to get access to vent. Disconnect vent from the back of dryer.
Clean dryer duct vent with vacuum as deep as possible into wall and inside dryer.
Go to the outside dryer vent and vacuum as deep as possible.
If your dryer vent is too long for a vacuum to remove the lint, buy a dryer vent kit that contain flexible brushes with extensions that can be used comparably to drain snakes and more thoroughly clean the vent's interior walls.
Need a professional to clean your clothes dryer vent?
PDM Plumbing, Heating & Cooling experts can help inspect and clean your dryer vent. We have the proper tools to clean your dryer vent. PDM has been a trusted SW Chicagoland neighbor since 1885. Contact PDM. Call for dryer vent cleaning in Greater Joliet, New Lenox, Plainfield, IL 815-207-4111.

Clients also ask about home air duct cleaning.

Water Softener Service In Joliet Metro Area » « How To Prevent Or Thaw Frozen Water Pipes