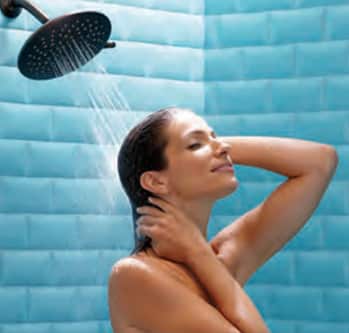 What is your shower experience like? For the perfect daily escape – just turn on the water, and let the shower head do the rest. A massaging Moen shower will leave you relaxed, rejuvenated and ready to face the day.
Moen Shower Facts.
Forty-eight percent of homeowners wish they could make their shower larger.
Almost half have a wall-mounted, standard-sized showerhead; but the most preferred is a wall-mounted rainshower.
Thirty-eight percent of people do not prefer a hot shower.
Thirty-seven percent want to conserve water, but don't want to sacrifice shower performance.
On average, a shower lasts about 13 minutes but wish it could last five minutes longer.
Americans take approximately 6.7 showers per week
Males take showers more frequently than females (7 times per week vs. 6.4, respectively).
Fifty-eight percent of Americans shower in the morning.
On average, consumers wash their hair 5.7 times per week.
Sixty-seven percent spend their time in the shower daydreaming on topics like family and relationships, as well as thinking about work and household chores.
Sixty-three percent sing in the shower because they feel happy, relaxed and know that no one can hear them.
Seventy-three percent of U.S. consumers share their shower with someone.
Looking to Upgrade With A New Moen Shower?
Check out the latest Moen Bathroom Products.Even the new U by Moen that has forever transformed showering to create a personalized showering experience. Now with three ways to control your shower: voice, phone, and controller. Or the new Moen Hydro Roller combination showerhead pairs a massaging handshower with a rainshower for the ultimate revitalizing spa experience. Aromatherapy shower infuses essential oils into the water flow giving you calm and wonder. PDM is your neighborhood plumber who been remodeling bathrooms for 135 years.
Why Choose PDM?
Our skilled team of plumbing and HVAC problem solver promises the following with each and every call:
Guaranteed Pricing: You will never be surprised by an unpleasant bill.
100% Satisfaction Guarantee: Going beyond to make you happy.
Environmentally Friendly: We recycle and use sustainable materials.
Respect: We are homeowners too, so we will always clean our messes and treat your property with respect.
Call a Trusted Plumbing Partner Since 1885 – 815-726-6264.
PDM Plumbing, Heating, Cooling has been serving the Joliet-Plainfield-New Lenox SW Chicago Suburbs for 137 years. We'll be here when needed.