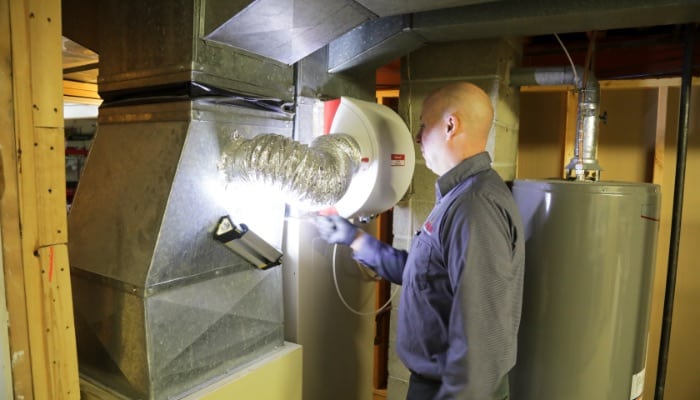 Home Energy Saving Ideas
1. Annual AC and Furnace Head-To-Toe Check-Up For Energy Saving
Annual HVAC maintenance is the best way to minimize service calls, eliminate surprises, and control your total cost of operation. Federal Energy Management Program shows regular maintenance: Reduces energy use up to 30%, Downtime cut by 35-40%, Cuts breakdowns by 70-75%, Lower repairs 5-20%. HVAC tune-up is your best return on investment especially with rising energy costs.
2. Air Filter
Dirt is the number 1 cause of breakdowns. A clogged air filter can reduce air flow up to 65%, stress your system, cause breakdowns, waste energy and reduce your comfort. Inspect your air filter regularly.
3. Plugging Air Leaks
According to the EPA and Energy Star, you can save up to 10 percent on utility bills just by plugging air leaks. Infiltration of hot or cold air is your worst enemy. The fewer holes in your home the less energy it takes to keep you comfortable.
4. Energy Efficient Furnace or Boiler More Than 15 Years Old?
Average 5 month winter natural gas utility bill is near $1000. A new high-efficiency heating system can often cut your furnace's pollution output in half. New ENERGY STAR furnace is up to 15% more energy efficient than new baseline furnace models.
5. Air Conditioning System Over 10 Years Old?
If your central air conditioning unit is more than 12 years old, replacing it with an ENERGY STAR qualified model could cut your cooling costs. New central air conditioning Energy Stat units are eight percent more efficient than new standard models.
6. Whole Home Humidifier Helps With Energy Saving
Moisture helps to conserve energy during dry winter times. A humidifier allows you stay comfortable by lowering temperature settings a few degrees. Whole home humidifier can reduce heating up to 20%, help avoid sickness, bloody nose, static shock, help wooden instruments, furniture and keep you more comfortable.
7. Thermostats Matter
They control up to 50% of your energy bill. Here's one of the easiest energy saving ideas. EPA says a programmable thermostat can lower heating and cooling bills by 20%. Change your temperature just one degree can cut your energy use up to 4%. New Wifi smart thermostat allows you to control temperature from your phone. On average, a programmable thermostat can save you $180 per year. Contact PDM for thermostat advice and see changes on your utility bills.
8. Whole Home Power Ventilator
You can replace all of your home's stale air every few minutes with fresh outdoor air. Fast performance. Reduces need for AC. Affordable. Low operating costs. Quiet operation when properly installed.
9. Fireplace
Do you have tight-fitting dampers which can be closed when the fireplace is not in use? A damper seal will keep cold air from leaking into the room through the chimney. Consider replacing wood with a gas insert. Have the chimney cleaned for safety. Fireplace doors, covers, and screens can reduce energy use and stop air leakage.
10. Windows
Cut heat transfer through your windows by 40% to 50% with double pane windows and more with triple pane. In the summer block direct sunlight from windows and use blinds, drapes to block sunlight in the hottest part of the day. Winter, let the sun heat your home and close drapes at night to keep more heat inside. New ENERGY STAR windows can save you $20-$95 each year on your utility bills.
11. Kitchen and Bath Exhaust Fans
Exhaust fan draws conditioned air outside your home. Depending on the size of your fan you can pull all of your heated or cooled air outside in an hour. Use fans sparingly during hot or cold temperatures. New Energy Star fan can use 70% less energy, on average, than a standard model.
12. Water Heater
Water heater flush helps improve efficiency and prolong life. Check water temperature setting. And if it's time to upgrade consider a tankless water heater.
Why Work With PDM Plumbing, Heating, Cooling Since 1885?
Our skilled team of plumbing, and HVAC experts promises the following with each and every call:
Rebates for many energy saving products including thermostats, windows, HVAC, air cleaner, water heater, fans
Guaranteed Pricing: You will never be surprised by an unpleasant bill.
100% Satisfaction Guarantee: Going beyond to make you happy.
Environmentally Friendly: We recycle and use sustainable materials.
Respect: We're homeowners too, so we will always clean our messes and treat your property with respect.
Call a trusted neighbor at 815-726-6264.