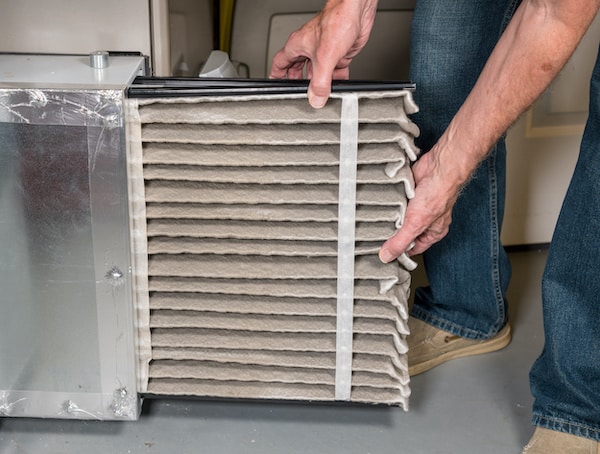 Why is my furnace noisy?
Finding the cause of a furnace noise can be challenging. Some problems you can fix, but some problems need an expert. If the furnace is not sounding right, it's best to call a trusted heating company to inspect your HVAC system. Here are some common furnace noises.
Squealingfurnace  noise.
A brief squeal at startup is fine. Continual screeching may be a failing compressor or malfunctioning blower motor, a loose fan belt or motor bearings in need of oil.
Whistling furnace noise.
High pitched whistling sound may be a duct air leak. Find source of sound and repair with special tape. If the noise just started, your air filter may be clogged. Pull out the furnace air filter and see if the whistling stops.
If the filter is filthy, keep the filter out until it is replaced. This will help with the noise and the condition of your furnace. Just don't forget to get it replaced ASAP!
Rattling and Vibration.
If your furnace is rattling or vibrating then we have some simple solutions for you. Here is what you can do to stop the rattling:
Add screws to any loose ducts
Duct tape loose ducts or other equipment
Place rubber or cork pads under the furnace (Use a pry bar to lift the furnace so you can slide something under it)
Motor noise.
If sounds come from the motor, it may be caused by some bouncing or possibly the bearings are out. 
Metal scraping furnace noise.
May be a loose or broken blower wheel, or broken motor mount. Turn off your furnace and call for help.  
Banging when the furnace turns on.
Two possibilities: It could be "oil-canning" or an "ignition roll-out." Oil-canning is when the duct work is flexing when the pressure changes. Need to find weak duct area and reinforce the area.  Ignition roll-out is a small "explosion." It's caused by a tiny explosion when you start the furnace. This can be a dangerous problem. Call someone who is licensed to service your furnace, like PDM. Newer furnaces will shut down if this is the problem.
Loud, low humming furnace noise.
May be the result of a bad interior fan, failing capacitor, or bad motor. Your transformer may be on its last leg.

Some furnace noise is normal but a loud, funny furnace noise may say, call a professional for help. Proper furnace maintenance to help avoid breakdowns is serious as it involves you and your family's health and safety. It's important when dealing with a gas appliance and carbon monoxide poisoning. Call PDM Plumbing, Heating, Cooling Since 1885 for trusted boiler heating repair in the greater Bolingbrook, Joliet, New Lenox, Plainfield, IL area. You comfort is guaranteed. Call 815-207-4111.

Best Air Purifying Technology » « Drain & Sewer Cleaning Clogged Drains