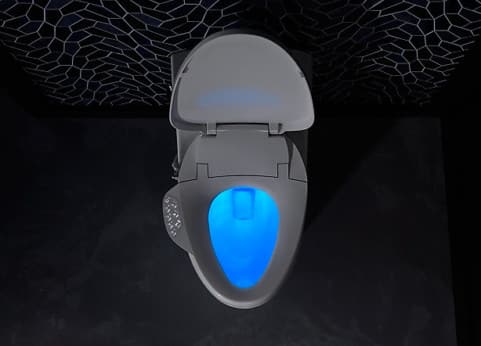 Cleaner, fresher feeling and no more toilet paper
Few household comforts have changed less in the last 135 years than a toilet seat. Certainly the flushing power has advanced but the tank, bowl, seat and toilet paper are essential the same. Once in a great while, something comes along that makes you wonder how you ever lived without it, like a smart toilet cleansing seat.
So clean, so comforting, you'll wonder how you lived without one. You'll love it, really. We have found no one has been unhappy with their new smart toilet seat investment.
Smart toilet cleansing seats: modern day bidet
Smart toilet cleansing seats feature water cleansing as a refreshing change to toilet tissue alone. They give you complete control over the entire experience with intuitive controls. And they will leave you feeling confident, assured and cleaner than clean.
Sleek and smart, a cleansing seat will elevate your daily routine. It's an instant upgrade to any toilet with customizable amenities you might experience at a spa or in a luxury hotel, including warm-water cleansing, heated seat, nightlight and much more. KOHLER® Smart Toilet Cleansing Seats are designed to fit most toilets and complement a range of decors. You can invest in a seat only or a whole new toilet and intelligent seat. Features can include:
Nightlight 
A built-in light sensor automatically turns on a dim nightlight. A smart road map to the toilet without turning on eye-shocking overhead lights.
Heated seat
Kohler's ergonomically designed seats are heated for sweet comfort.
Warm-air dryer  
The warm-air dryer is adjustable gives you personal comfort and assurance.
Hands-free lid, auto-flush  
The motion-activated lid on an intelligent toilet automatically raises for you. Once you're done, the toilet will automatically flush itself. The hands-free operation is cleaner with fewer germs to pick up or leave behind.
Deodorizing seat  
Upon sitting down, a fan starts. Air is pulled from the toilet bowl through a carbon filter to remove odors and help keep your bathroom fresh.
Touch-screen remote  
Looking for a gentle cleansing or a cleaner alternative to toilet tissue? KOHLER smart toilet cleansing seats let you control your experience with convenient presets and intuitive controls. The intuitive touch-screen remote can be mounted to the wall, and it works like a smartphone. Program and control your personal settings with a simple touch.
See Kohler intelligent toilet video.
Cleaner than clean
All PDM plumbers wear shoe covers, gloves, and a mask if you or they prefer. We wash hands prior to entry into your home and clean up well. We practice social distancing and will not shake hands. It's all part of PDM's 6 Step Healthy Service Call to protect you and us.

Contact PDM Plumbing, Heating, Cooling for smart toilet seat advice. Serving Joliet SW Chicago Suburbs since 1885. Call (815) 726-6264.

Benefits of Tankless Water Heater » « Water Softener Joliet Metro