PDM plumbers work safely, keep their word and enjoy helping you solve anything related to plumbing repair and service.
No plumbing repair job is too big or too small—from bathroom or kitchen remodeling to a leaky water heater or sump pump help to water backflow testing or sewer, drain clogged, we fix it all! And your PDM plumbing repairman is not complete until you are 100% satisfied and we clean up.
We go out of our way to make you comfortable and satisfied with your home plumbing service in the greater Bolingbrook, Joliet, New Lenox, Plainfield, IL area. The PDM Clean Team is nearby to help. Call 815-726-6264.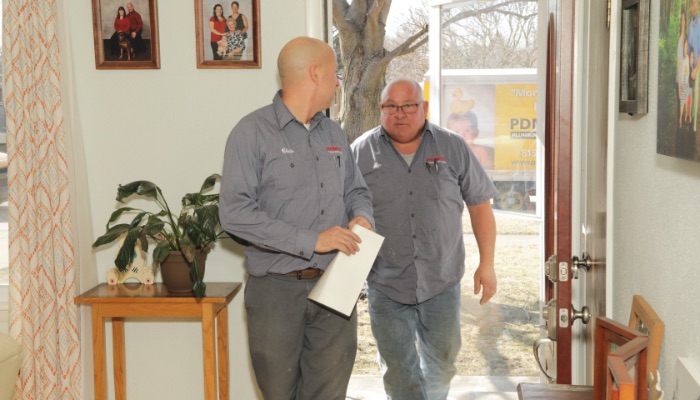 Sewers and Drains - Something sinister going on below? We can handle it. We're here for your toughest sewer issues as well as your smallest drain clogs.
Water Heaters - We'll help get your showering routine back on track. With our arsenal of expert repairs and maintenance knowledge and new, high efficiency units, we've got everything it takes to solve any hot water problem.
Water Softener - Hard water isn't easy water. It builds up on appliances, causing premature failure, and it makes it difficult to create a lather to shower and wash clothes with. We can repair existing water softeners as well as provide brand new installations.
Plumbing Pumps - We service and install a variety of pumps: sump, sewage ejector and water pressure pumps.
Bathroom Plumbing - Has your bathroom changed from a place of retreat to a source of stress? We'll do whatever it takes to fix that.
Remodeling - Has your bathroom changed from a place of retreat to a source of stress? We'll do whatever it takes to fix that.
Kitchen Plumbing - As a hotspot in the average home, no one can really tolerate a kitchen plumbing issue for very long. Luckily, we're fast, efficient and leave everything squeaky clean.
Gas Piping, Water Piping, Process Piping Service - Great people who are highly skilled and motivated. PDM has the experience of installing most any piping project. Superior service at the lowest cost. Free estimate.
Swimming Pool & Spa Gas Water Heater Repair & Install - PDM can diagnose, offer a price upfront and make necessary pool or spa heater repair. We service most brands of pool heaters.
Backflow Testing - PDM is trusted, experienced and state certified backflow specialist.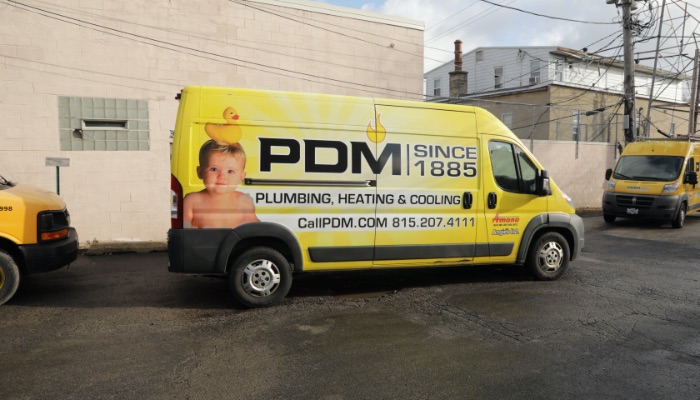 How much does it cost to fix a leaking pipe near Joliet IL?
Leaking pipes cost on average between $200 - $450 to repair in the Joliet, IL area. This does not include repairing the drywall after the fix, which could run up to an additional $250 - $750, depending on where the damage is and how big a hole needs to be replaced.
PDM Plumbing, Heating & Cooling offers a full range of eco-friendly plumbing repair services to the Joliet area. We are available 24 hours a day, 7 days a week, and provide upfront pricing—You'll never pay more than what we quote. Call us today at (815) 726-6264.
How much does it cost to replace a main sewer line near Joliet IL?
On average, residents in Joliet, IL pay between $50 - $200 per foot to replace sewer lines. Small pipe replacements can be between $3,000 - $6,000, while larger jobs can exceed $20,000. Total costs depend on a number of factors:
Length of sewer line.
Location of house trap.
Sewer size requirements from the city.
For more information on replacing your main line, call PDM Plumbing, Heating & Cooling. We have over 136 years of experience in plumbing in the Joliet area, and all of our services come with a one-year, risk-free guarantee. Call us today at (815) 726-6264.
Why is my hot water not working near Joliet IL?
If your hot water is not working, there could be a number of things wrong with your hot water heater, including:
Pilot light is out - Make sure to follow the manufacturer's guidelines on how to relight.
Leak in gas line - Check for rotten egg smell to see if the gas line has a leak. If you think it might, call a professional as soon as possible.
Sediment buildup - Over time, sediment can build up and harden in the hot water heater, not allowing it to adequately function. To reduce sediment buildup, water heaters should be flushed regularly.
Thermostat malfunction - If the thermostat is not working, your water heater will not function.
PDM Plumbing, Heating & Cooling has been proudly serving the Joliet, IL community for 136 years. We offer water heater repair and replacement services with the expertise and knowledge you deserve. Our technicians perform the task quickly and affordably, getting you back to taking hot showers without breaking the bank. Call us today at (815) 726-6264.
Designed for year-round plumbing reliability, PDM's home and commercial annual maintenance plans help avoid costly failures with exclusive savings. Our team will conduct a thorough inspection of your plumbing systems and perform maintenance to keep them working correctly. We'll look for small problems that can become emergency issues and fix them early.