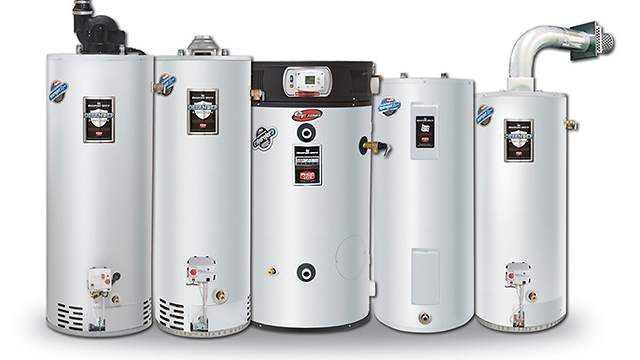 Whatever you need the PDM Water Heater King can help.
If you are going to trust someone to come in where everything you appreciate is – you want to be sure they are of a quality caliber. The polite PDM Comfort Team has been a trusted partner for water heater installation service for 135 years.
Neat, fresh, water heater experts, think differently and won't cut corners when it comes to your safety or comfort! PDM Plumbing, Heating, Cooling will get your hot water flowing fast. Water heater maintenance to hot water heater installation. Receive the highest level of water heater installation service and quality workmanship from the oldest water heater expert.
We offer gas and electric tank-type units, as well as tankless, copper-tube water heaters, storage tanks and solar water heating systems. Gas water heaters with atmospheric, power vent, direct vent, induced draft and powered direct vent units.
Top-notch water heater installation includes:
Quality water heater. A leader in energy efficiency, performance and reliability plus industry-leading warranties. Energy Star models for home and business. Made in the USA.
Solid warranty - 6 year limited parts and tank warranty, one year labor.
Safety first. Replacing is one thing, but is your existing water heater installed to current safety codes? PDM plumbers are state licensed and will make sure your water heater is safely installed to code.
Clean your chimney base of all debris and see if the flue pipe from the new heater is pitching up toward the chimney to keep you safe.
Change any parts needed within three feet of your water heater. Some companies quote a cheap price and then add-on charges.
Water heater installation designed to look great. We don't use cheap flexible copper water connectors that could leak. We custom solder hard copper pipe and fittings designed for your unique job.
Ensure sufficient draft upstream to make sure deadly carbon monoxide gases leave your home or business.
Test emergency gas, electric and water shut-off valves. We also test the temperature and pressure relief valve, gas and water leaks and more for safe operation.
Prevent painful hot water scalding by setting water temperature around 120 degrees.
Clean up the work area, many times better than when we began. Surprisingly that's not always the case with other companies, they leave you a mess.
Free removal of your old water heater, $25 value.
Recycle your old equipment. Every little bit helps.
You could be liable if an unlicensed, uninsured worker gets hurt on your property. PDM protects you. We're fully licensed, bonded, insured, background checked and random substance testing.
Fast tank or tankless water heater installation in Joliet, New Lenox, Plainfield, IL.
Water heater installation usually within two hours during normal business hours. Call the Water Heater Installation King for neat, honest service. Serving Joliet, Plainfield, Bolingbrook, New Lenox and SW Chicago Suburbs for 135 years. Call 815-207-4111.
REVIEW
I had an excellent experience with PDM Plumbing, Heating, Cooling. I most recently used them for the first time, where they put a water heater in so that I could have hot water again. I would say that the pricing was really good for the quality that I received. I found them on the Internet and they did a great job, so I had a very nice first impression with the company. I would absolutely keep using them in the future. I would also recommend them to future customers because they can yield excellent results." – David H. in Joliet, IL
Options clients have chosen for safety and comfort.
Anti-Scald Valves.
Anti-scald valves or tempering valves and mixing valves, mix cold water in with outgoing hot water so that the hot water that leaves a fixture is not hot enough to scald you.
You can suffer third-degree burns if exposed to 150 degree water for two seconds, a six-second exposure to 140 degree water or with a thirty second exposure to 130 degree water. Even if the temperature is 120 degrees, a five minute exposure could result in third-degree burns. Every day, hundreds of young children with scald burns are taken to emergency rooms. Remember to face children away from faucets and as close to the other end of the tub as possible. Keep children safe from scalds PDF.
A thermostatic mixing valve can help. Call PDM Plumbing for free advice. 815-207-4111.
Wi-Fi Water Leak and Freeze Detector gives you added protection.
Peace of mind wherever you go: At the first signs of leaks, freezes, or excess humidity, The Wi-Fi Leak & Freeze Detector can alert your smartphone.
Leaks and frozen pipes can cause serious damage to your home. With Wi-Fi Water Leak and Freeze detectors you can get early warning. By catching it early, you may be able to avoid expensive repairs and loss of treasured items.
They can be placed near trouble spots like the sump pump, water heater, washer and under sinks. Each can be individually named and registered in the Home app and easily connect to your home Wi-Fi network.
If a leak is detected or pipe begins to freeze, the Home app on your phone will alert you wherever you are.
Tired of waiting for hot water?
With a PDM Comfort Series Instant Hot Water System you'll enjoy hot water from the moment you turn on the hot water faucet. You'll also save up to 16,000 gallons of water each year and use less energy than it takes to run a 25-watt light bulb…to say nothing of the tremendous ecological benefit that goes along with it.
A re-circulating pump that attaches directly to your heater. Requires no additional wiring or electrical expense. The pump keeps the water in your pipes moving, resulting in a constant availability of hot water without the wait or the waste! Turn the shower on and get hot water. Call PDM Plumbing at  815-207-4111.
What is a thermal expansion tank and how it can help.
Have you noticed a continuous dripping of a temperature and pressure (T&P) relief valve or dripping faucets and leaking toilet tank fill valves, even noisy water hammer in the pipes? The cause can be thermal expansion of heated water. A buildup of unusually high water pressure can create a number of annoying and potentially dangerous problems.
When dangerous water pressures build up in a water heater, internal parts may fail such as the internal flues, fittings or water connections. If a flue way collapses it can lead to the potential release of toxic gases. Thermal expansion can even lead to a bulging or exploding hot water heater tank and may void the manufacturer's warranty.
If you noticed any of these symptoms, tell us and we can install a small expansion tank above your water heater to relieve unsafe water pressure build-up. It's simple and easy.
Call PDM Plumbing for trusted water heater installation help today. 815-207-4111.
How do you know if you need a new water heater?
There are a few signs to watch out for that may indicate you need a new water heater:
The tank itself is leaking - This is common over time as heating and cooling will expand and contract the tank. Unfortunately when this happens and the tank develops a leak, a repair is typically not an effective solution.
The water heater is making unusual sounds - A loud clanking or drumming sound means that sediment has built up in the tank and has hardened.
Water looks rusty - If the pipes have rusted internally, it will mean a water heater replacement.
The unit is older - Standard tank storage hot water heaters are built to last about 8 - 12 years. A good rule of thumb is to not repair units over 10 years old so you are not wasting money on an appliance that will not last much longer.
How long is a water heater supposed to last?
Experts estimate that standard tank hot water heaters will last between 8 - 12 years, on average. Tankless water heaters typically last twice as long, about 20 years.
Why is the water in my home not hot enough?
There could be a number of reasons why the water coming from the hot water heater is just not feeling hot enough:
Temperature is set too low - If the water heater is not set to a high enough temperature, it will never feel hot enough. Be careful not to set the temperature too high, however.
Dip tube is not working - You can also check the dip tube to see if it has broken or fallen off. If this is the case, incoming cold water will be drawn out through the hot water outlet without being heated first.
Burner is clogged on gas heater - Dirt can build up on the burner which will impact its heating abilities.
Sediment buildup - If there is too much sediment that has built up on the bottom of the tank, the unit could take longer to recover its hot water supply.
If your hot water heater is just not producing enough hot water, we can help. Contact PDM Plumbing, Heating & Cooling today to learn more or to schedule a service!

Piping Service » « Coronavirus Pandemic Message