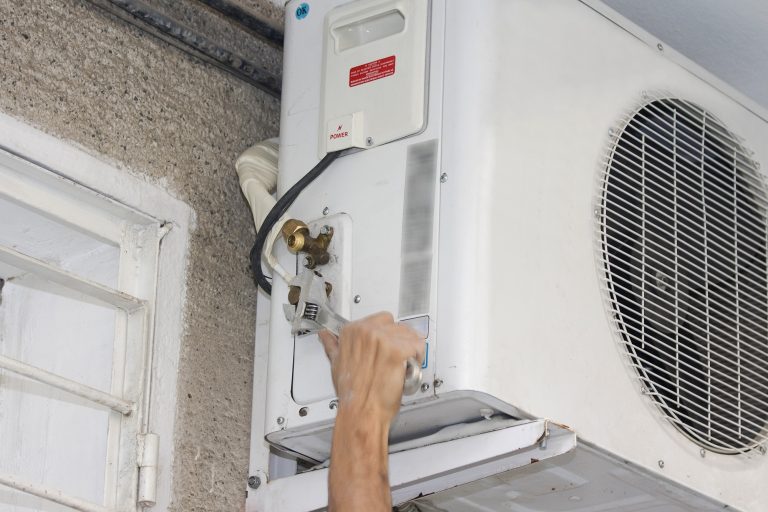 Garage Heating. Unit Heater.
When it comes to garage heating the first thing to ask is are walls and ceiling insulated? Insulated garage door is a must. You can get a garage door insulation kit if needed. And of course plug all air gaps. And if an attached garage, good insulation may be all you need to keep the space above freezing for paint cans, gardening, tools and workshop.
With frigid temperatures working in a garage can be tough. A small space heater will only raise the inside temperature a few degrees. Portable heaters generally are not powerful enough for a good sized garage. The best garage heating are those that are efficient and powerful.
Ceiling mounted garage heater located in a corner can be a good start. The downsize is if you work closer to the floor heat will be harder to come by. Electric baseboard or hydronic baseboard heater can help.
How can I heat and cool my garage?
To heat and cool your garage, you can get the following systems installed: 
A window heating and air conditioning system. 

A ductless mini-split system.

A radiant heating system.
The type of heating and cooling system you need to heat and cool your home's garage will rely on your specific needs and how well insulated your garage is. To find out more about getting a heating and cooling system for your garage, call us today.
What is the most economical way to heat a garage?
Ductless mini-split systems and radiant heating systems are two of the most economical and effective ways to heat your garage. Mini-split systems are easier to install if your home is already built, but radiant heating systems are able to heat your garage more evenly. Determining which heating solution is best for your needs will depend on if your garage is built or not and how well your garage is insulated. To learn more about the best heating system for your garage, contact us today. 
Can you put an HVAC in the garage?
Some building codes may permit you to put an HVAC system in your garage. However, it is highly recommended that you do not place your home's HVAC system in the garage unless it is installed correctly and to code. Placing your home's HVAC system in your garage can create a myriad of issues if installed improperly. To find out more about where you can place your HVAC unit, give us a call today.
Garage Heating Choices.
Unit heaters can include: radiant heating, infrared heating, electric heater or gas furnace. Many heaters can have a remote control thermostat to make life easier.
True quiet radiant hydronic or electric radiant heating ceiling panels is a good garage heating solution.
An infrared garage or shop unit heater focuses the heat on people or work areas. Indirectly the infrared heating warms the surrounding air and highly efficient, but more expensive. Provides consistent, steady warmth without a fan.
Electric garage heater for powerful output in garage, work space, basement. Mount on the ceiling or where you like. Can have thermostat to set temperature. Some models come with adjustable louvers to direct heat where you want it. Can be expensive for quieter fan and more options or budget-friendly with a louder fan, less power and fewer options.
Gas garage furnace. Unit heaters built-in electric fan pulls cool air into the heater rear then over a heat exchanger, forcing hot air into the garage. Common garage furnace heater can be 30,000 to 75,000 Btuh with 80+% efficiency to hold off the chilliest of winters. Proper venting is required in the roof or out a wall
Ductless mini split electric system can be a nice option but more costly.
How many Btu to heat 2 car garage. Of course how well your garage is insulated can change your heating system. 45,000 Btu furnace can be a starting point.
Garage Heating Installation.
When its cold outside, PDM brings the heat. For 138 years we've delivered reliable unit heaters to our customers. If you need help with garage heating, call PDM Plumbing, Heating, Cooling Since 1885. You'll get honest solutions and top-notch craftsmanship to keep you safe and comfortable. Serving Joliet, New Lenox, Plainfield, Bolingbrook and SW Chicago Suburbs. Call 815-726-6264.