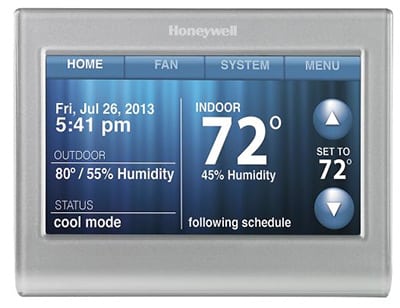 Lower Utility Bills – Reset Your Programmable Thermostat.
"Set a programmable thermostat and forget it." Set your temperatures based on the times you are normally home and your habits — and then you almost never have to bother with it. From Energy.gov
If you are out of the house all day set back your thermostat 5° to 8° or more for 8 hours and save as much as 3% off your heating or ac utility bill for each degree lower. For example:
6:45 a.m.: The family wakes up to get ready for the day. The winter temperature of the house is 68°F; the heat automatically turns on a bit earlier so it would hit this temperature by 6:30. Summer setting can be 78°F or higher.
7:45 a.m.: The family leaves the house and the winter thermostat is set 5° to 8° lower. Summer daytime temps are set higher. By turning their thermostat back 5° to 8° or more for 8 hours, you save of as much as 1% for each degree if the setback period is eight hours long.
4:30 p.m.: You return home from work and school. The heat is turned back on a bit before this so the house would again be 68°F for your return. Summertime is set to 78°F or higher.
10:30 p.m.: The whole family has gone to bed (bundled in warm pajamas and snuggled under blankets), and the thermostat is again set to 62°F. In the summer temps are as warm as you as you feel comfortable. Remember you can turn the thermostat fan "On" to help move the air.
Note that for all of these temperature changes, the family never once touched the thermostat. At the beginning of the season, they programmed it once to follow this schedule and the changes happen automatically — and so do their savings. That's important for busy people!
Next best thing is a Smart WIFI thermostat you can control from anywhere.
If you'd like to save energy in your home, schedule a convenient PDM appointment. PDM serves Joliet SW Chicago suburbs.